A small thing can change an entire background

I believe that everyone will have some difficulty decorating his or her bedroom while the area is quite small, but our bed, desk, and closet occupies half of the space. From experience, I think about setting up my souvenirs, makeup products, and other necessities I will use in a suitable place but does not take up much space. I came up with an idea to solve this problem which is to build a cube shelf that can be found at any superstore such as Target, Home Depot, Ikea, or even Amazon. The tones are standard including black, white and dark-brown in case you can select any color that matches to your room. The price of a nine-cube shelf is approximately cost $39.99 without adding any tax and would increase or reduce if you purchase the larger or smaller one.

White and Black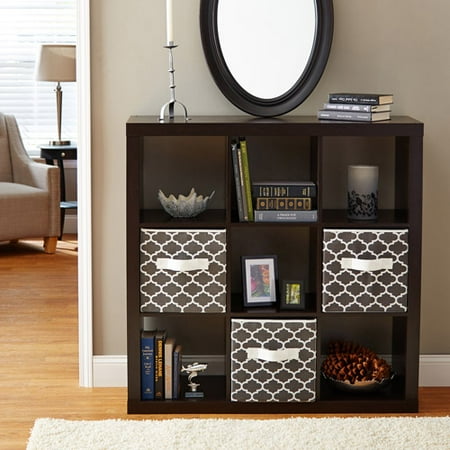 For me, I decided to buy the shelf with nine cubes at Target which only cost $43 total. Additionally, I also purchased three fabric drawers as I will need to hold some fragile or small items. These products come along with a handy book guiding you to build a complete shelf. The utilities I used are simply a mini hammer and gloves.

After building my shelf, I placed it close to the wall and use a nail to hook it tightly. I put fragile products such as perfumes and nail polishes in drawers and place them back on the shelf. Instead of buying a new bookshelf, I use it as my book holder and displace my favorite and new books. The other cubes will keep all of my makeup products, souvenirs and other handy items that I need daily. Additionally, the shelf can carry many things such as plush toys, wool, or even shoes. Also, my mom used the cube shelf to decorate her room by putting on a flower vase, photo frames, and magazines, and colorful notebooks.
1. wool and toys

2. binders and books

If you have troubles of finding a space to displace your items such as books, makeup goods, binders and miscellaneous materials, think about creating a cube shelf. It makes your room cleaner, larger and prettier with your decorations. I believe creating a comfortable living space is an essential demand for everyone.